We have previously discussed what data quality is and its importance. In this article, we will discuss how organizations can adopt data quality. We will provide an elaborate step-by-step process to give your organization an idea of the means of adopting data quality and choosing an expert to get the job done.
The important elements of data quality are accuracy, validity, completeness, timeliness, relevancy, and consistency. The quality of the data diminishes when one element is removed from this equation. Maintaining a balance between these six factors and eliminating manipulation of data delivers high data quality. But the question remains, how can your organization implement the changes that are required to adopt Data Quality?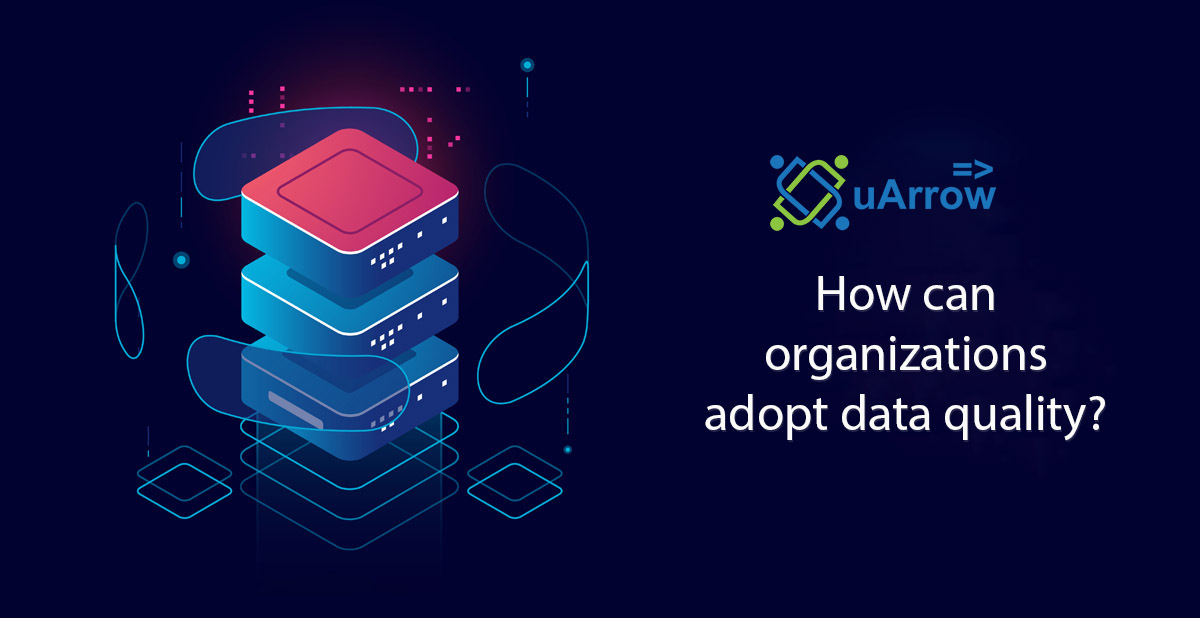 How can your organization adopt data quality?
Build a team of experts
Bringing about changes within an organization and changing how people work will be a major task to accomplish. Therefore, you will need to get everyone on board and implant leadership that will be able to deliver. The members that are on the team should understand the value of data and its direct impact on the organization.
If you are here wondering how to get your organization to adopt data quality, then you will have experienced the wrath of bad data. Every member on this team should be a stakeholder, spread across various departments and or various levels.
The responsibility of the team is to implement, strategize, and enforce the changes for the transition to take place. Individuals should be assigned roles to monitor compliance, technicality, and policymaking. Although it is a team, individual roles will have to be played for the success of the transformation of adopting data quality.
Define how data will be used in your organization.
Understanding the purpose of the data will eliminate unwanted procedures that could lead this transformation astray. Setting defined goals and aims will act as a guiding factor throughout the process. Setting indicators and milestones should be a part of the process to evaluate progress and change.
Clearly defined short-term and long-term goals that should be put into place, well-defined KPIs and beneficial outcomes that contribute to the progress of each department in the organization should be defined.
This will help members of the organization to fall in line and comply with the changes that should be made. At the end of the day, achieving data quality is not the goal, but achieving business development through quality data is the end goal.
Create a single rule for all the data collected.
With a team and a plan set in place, it must be taken to the next steps of implementation and execution. This has to be in line with the 6 elements of data, which are accuracy, validity, completeness, timeliness, relevancy, and consistency. At this point, it is the data quality team that has to ensure all these elements are part of the data for it to have any effect on the organization.
Use a data quality tool to define, monitor, and analyze data quality. Now, data quality can be enhanced manually, but it deviates far from the goal of using data. Adopt a tool that will assist in referential, expressions, patterns, dictionary checks, functional dependency checks, and more.
At this point, changes can be made to compete for data cleaning, the first step towards fixing duplicates, dubious entries, and missing data. It also delivers data standardization to maintain consistency with the content, and Data Quality Profiling provides information about the existing data.
Choose a Data Management Platform
This is where we come in. uArrow is a Data Quality Management Tool that allows businesses and organizations to manage quality data. The main idea behind the data quality product of uArrow Cloud is to maintain efficiency and consistency in data and reduce costs.
The tools will be able to deliver data quickly while maintaining quality at the same time. The tools that are used are a combination of data integration, stewardship, and preparation. With this, organizations can use a single point to access data.
By choosing a data management platform, your organization will benefit from a long list of pros, with the immediate benefits being a reduction in costs and an increase in ROI, increased storage capacity, time-sensitive data quality checks, and more.
The Final Word
In this article, we discussed how organizations can adopt data quality. The abovementioned strategy should be able to provide high data quality. Good data quality will allow organizations to make quick and accurate decisions, create action plans for growth based on data, and more.
Contact us for more information on how your organization can benefit from our Data management services.